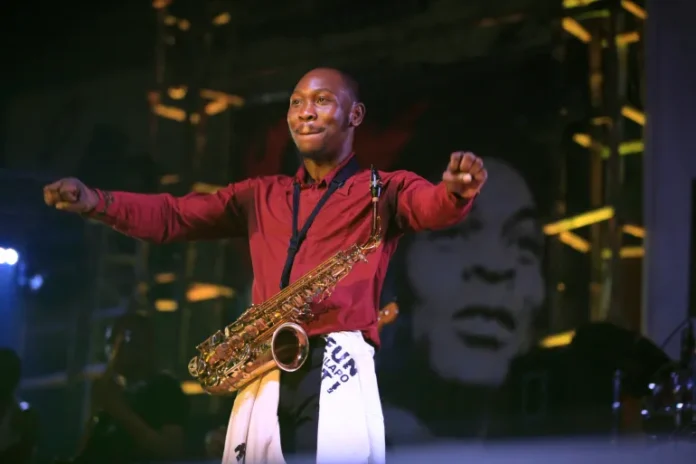 Nigerian musician Seun Kuti, son of Afrobeat legend Fela Kuti, has been arrested for allegedly assaulting a police officer, according to authorities.
Lagos state police said on Monday that an order had been made on Saturday for the arrest of the Grammy-nominated saxophonist and singer after a viral video showed him on a road, shouting and apparently pushing and hitting a policeman.
It was unclear what led to the confrontation although Kuti wrote on social media that the officer in question "tried to kill me and my family". He reportedly suggested the officer tried to ram their car.
He turned himself in early on Monday at the headquarters of the Lagos State Police Command, accompanied by a lawyer and a family representative, police spokesman Benjamin Hundeyin said on Twitter.
"He has been placed under arrest in line with the law," he said. "The ongoing investigation will be detailed, transparent, professionally pursued; and justice will be manifestly served for all parties involved."
The police said acts of contempt and disdain "for symbols of authority will not be tolerated while offenders of such hideous crimes will be surely brought to book".
The 40-year-old is the youngest son of Fela Kuti, who drove Afrobeat, a mix of funk and jazz, to global fame in the 1980s.
A charismatic figure and activist who was bitterly critical of Nigeria's military regimes and corrupt elite, Fela Kuti died in 1997 but retains a fervent following until this day.
His son started playing in his band Egypt 80 at the age of nine and took the helm when he was just 14 after his father died.
In 2019, Seun Kuti and the group were nominated for a Grammy for their album Black Times in the global music category.