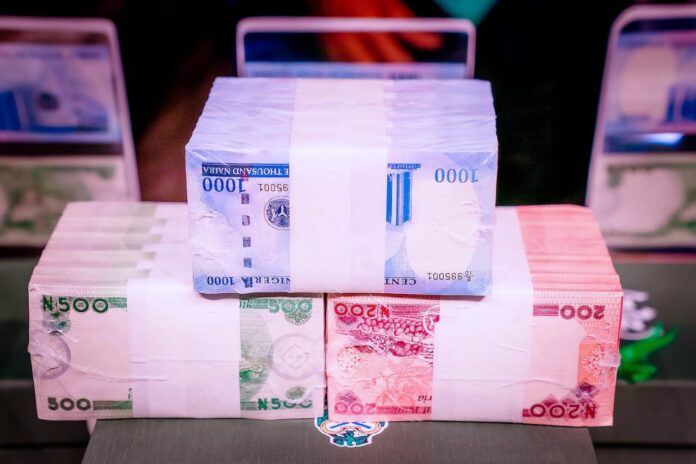 Nigeria's currency crisis has taken a new twist as some commercial banks shut down their operations on Monday over possible mob attacks from frustrated customers.
Also, financial experts disclosed that the ongoing crisis is self-inflicted.
For the past weeks, Nigerians have suffered from the pain of Naira scarcity.
The crisis might worsen if there is no significant improvement in the supply of the new currency nationwide as the February 10 deadline to phase out the old notes draws closer.
Customers have begun to act aggressively at the counters and cubicles of Automated Teller Machines, ATMs, a development that led some banks to beef up their premises with more security personnel and eventually shut down on Monday.
The aggression over the weekend recorded attacks in Ibadan, the Oyo State capital, where the facility of a Wema Bank was vandalised by an angry mob, while at the University of Benin, there was a face-off between students and military men over withdrawals at the ATM, a development that led to vandalism.
We gathered that some banks in Lagos, Osun, and other States shut down their operations as a precaution against mob attacks and asset vandalism.
A manager of a Tier-1 bank, known as Bello Muyiwa, disclosed that due to fear of mob action from customers, "we've decided to shut all operations except ATM services for the time being".
Although the commercial banks have denied hoarding the naira notes, the Economic and Financial Crimes Commission, EFCC, caught a bank manager in Abuja for refusing to load its ATM with N29 million new notes on Monday.
CBN and other stakeholders continued to accuse commercial banks of hoarding the new naira notes. Still, a statement made available to us by the President of ACAMB read that banks are not hoarding new Naira notes, stating that normalcy is returning soon.
Following the rising demand by Nigerians and scarcity across the country, findings showed that sales of Naira notes continue to persist, despite CBN's directives as the economy bites hard.
The scarcity of the newly redesigned Naira notes had generated serious outcry prior to the January 31 deadline set by the CBN for the old notes to cease from being legal tender.
We learnt that many POS agents now charge as high as 20 per cent on new Naira notes transactions, while some charge 10 per cent to 15 per cent.
While many of the POS transaction points visited on Monday had their shops locked because of cash shortage, the few that operated imposed huge charges on cash withdrawals over the weekend.
Our correspondent, who visited the Ikeja axis of Lagos State, reports that POS agents charged N2,500 for the withdrawal of N10,000 and N1,300 for the withdrawal of N5,000.
In a chat with us on Monday, an Accounting and Financial Development don at Lead City University, Ibadan, Prof Godwin Oyedokun, said the currency crisis is self-inflicted, and the Central Bank of Nigeria and commercial banks should be held responsible.
"The problem we face in Nigeria is self-inflicted pain where some people who have power decided to use their influence on Nigerians.
"Banks hoarding this new Naira should be ready to lose some of their assets over customers' frustration.
"I want to beg banks and authorities to make the new notes available for the use of Nigerians.
"In the first place, the deadline extension is a misplaced priority by CBN when they cannot prove to the public that they have sufficient currency notes.
"I believe that CBN is not doing enough to address the crisis. They are part of the people to be blamed; if they are sure commercial banks have been given sufficient new naira notes, they should publish names and amounts. Also, commercial banks should make it open how much money has been dispensed to Nigerians", he stated.
On his part, a financial expert, Idakolo Gbolade, insisted that the CBN must sanction commercial banks hoarding the new naira notes to avert heightened tension.
"The banks should be afraid of mob attacks because, in recent days, evidence has shown on social media and in the news that banks are indeed hoarding the new notes. The CBN has even sanctioned some banks. These reports show our concerns that banks are primary saboteurs of the Naira redesign policy.
"The Federal government should take adequate steps to end the scarcity because of tension in the land due to the cash crunch. So many markets need to receive patronage, and even the transporters in significant cities need help with the new notes.
"The situation could worsen if the CBN fails to ensure banks dispense the new notes over the counter reasonably or extend the use of the old notes for a longer period", he stated.
CBN needs to address scarcity – CPPE
In a swift response to the sale of Naira notes and the attacks on banks, the CEO of the Centre for the Promotion of Private Enterprise, CPPE, Dr Muda Yusuf said that these are consequences of scarcity in any system.
He said, "Once you increase scarcity, all manners of practices will emerge."
Yusuf said, "You now create a black market, you create hoarding, you make all sorts of problems.
"So what has happened is that the CBN still needs to address the problem of scarcity. The CBN has kept the thing they have mopped up to N2trn. How much have they given back? That is the source of the problem.
"If you mop up N2.1 trillion, How much did you give back to those who gave you the money?
"You can't promote a cashless policy by sitting on people's money. That is different from the way it is done.
"You told people that you are doing a cash drop; if I collect N1 million from David, I should be able to give back N1 million so that you will continue your business.
"If you now want to say that you want to bring it back, you get it out of your own volition.
"You can't bring your N1 million to me, I will sit on it and now ask you to go to the counter and collect N20,000; money that you are using to do business. So, unless you compel the CBN to address this supply issue, this problem will not disappear.
"No matter how many battalions of army or police or DSS you send out, it will not go away. We need to address the problem of scarcity of currency notes, so that's my view.
"You should give it back to the people, and if you don't have the new notes, give them back old notes and extend this thing and let them continue their business."