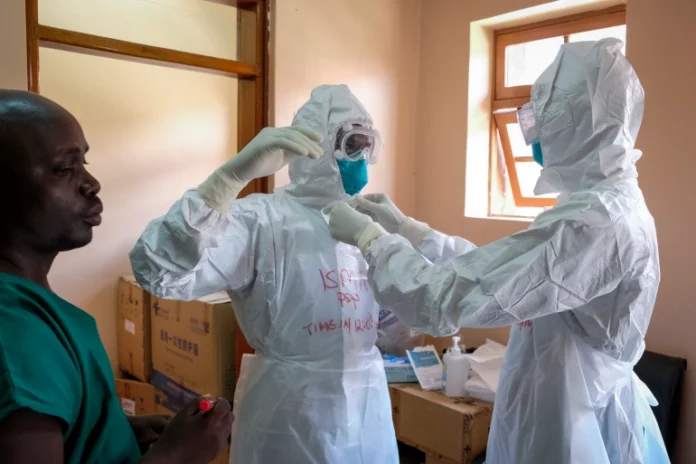 Kampala, Uganda – The Ugandan government is under pressure to bring an escalating Ebola outbreak under control, after the health minister announced that six schoolchildren in the capital city, Kampala, have tested positive for the virus.
At least 15 people in Kampala are now confirmed to have been infected with Ebola, according to a statement by Health Minister Jane Ruth Aceng on Wednesday – just days after the government insisted there were no infections in the capital.
Aceng said that the children were likely infected by a man who travelled from one Ebola-hit district to Kampala and died there.
"We were able to get this cluster, plus one other, because of the ministry's vigilance in contact tracing and field case management," she said.
However, health experts have criticised the government's response to the outbreak as slow and inept due to logistical failures, distrust towards the state, and reluctance to impose restrictions after Uganda endured one of the longest COVID-19 lockdowns in the world.
The government first confirmed an outbreak of the Sudan strain of the Ebola virus on September 20 in Mubende District, 145km (90 miles) from Kampala. As of Wednesday, the virus had spread to seven Ugandan districts in total, infecting 109 people and leading to 30 deaths, according to Aceng.
However, Ugandan President Yoweri Museveni only announced a three-week lockdown on October 15 in two of the most-affected districts and put Kampala, the capital city, on high alert in a bid to contain the virus.
It is the fifth time Uganda has experienced an Ebola outbreak since the turn of the century. An outbreak in the year 2000 killed more than 200 people.
Samuel Etajak, an epidemiology researcher at Makerere University School of Public Health, told Al Jazeera that the government has struggled to contain this outbreak in part due to a failure to quickly trace contacts and keep them under observation.
"For an epidemic response, you need a lot of logistical support. For example, you need vehicles to transport field teams doing case investigations, who are doing contact tracing, who are doing evacuations of suspected cases," he said.