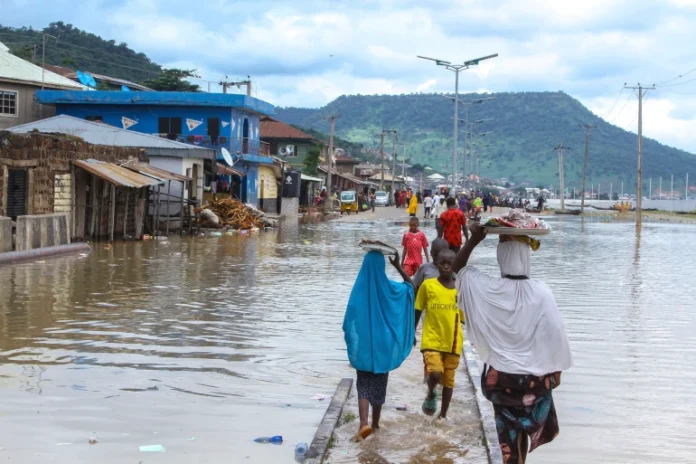 Lagos, Nigeria – Peremoboere Geku was getting her nephew ready for school in late September when she noticed floodwater around their bungalow in southern Nigeria.
She and her nephew waded through the water in Epie, a community in Bayelsa state, to get him to school, but on her return, she noticed it had already risen rapidly. Within days, the water was above her head. Geku is 165cm (5 feet 5 inches) tall.
The 21-year-old caterer and the rest of her family of eight fled to a camp for displaced people in the town of Okukukutu.
The camp was once a school. About 55 families, or more than 200 people, now live in its 20 crowded classrooms without electricity. They share two toilets and cook their food in the classrooms where they sleep.
But food is scarce. Prices have soared in recent months, and such costs are difficult to meet for people who've lost most if not all of their belongings in the floods. The government, according to people in the camp, is not doing enough for the victims.
"The last time they were here, they gave us just two bags of rice, a bag and a half of garri [cassava flour], half a gallon of oil and half a gallon of palm oil for all the families," Geku told Al Jazeera in a classroom filled with many families, the clanging of pots and chatter of voices.
"We have only seen relief materials from the government just once," she said. "… Mostly we have [received aid] from individuals."
'Clapping with one hand'
Since late September, the worst floods to hit Nigeria since 2012 have overrun hundreds of communities in Africa's biggest economy. They have struck 33 of Nigeria's 36 states. More than 600 people have been killed and 1.3 million people displaced. Thousands of homes and farmland have been washed away.
Many survivors are living in terrible conditions in camps with almost no governmental assistance, according to victims and experts interviewed by Al Jazeera.
"Disaster management in Nigeria is synonymous to clapping with one hand; it is not possible to clap with one hand, but that is the situation of things in Nigeria," Olasunkanmi Okunola, a disaster risk specialist and visiting scientist at the University of the Witwatersrand in Johannesburg, told Al Jazeera.
"It is a situation where we always focus on a reactive approach, and the approach is limited to the distribution of so-called relief materials, which is also limited," he said.
Okunola said the government needs to start thinking more about structural issues to mitigate flooding.
"The government must heavily invest in critical infrastructure – roads, drainage, dikes and flood barriers," he said.
Several weeks into the floods, some communities have not yet received relief because they are still inaccessible, according to Manzo Ezekiel, a spokesman for the National Emergency Management Agency.
"Bayelsa is largely inaccessible because of the floodwater," he said. "In fact, the situation in Bayelsa is so [bad] that I don't think the state has witnessed that level of devastation in the past."
'People are just dying'.
When Akpos Best, a 26-year-old software tester, returned from a trip to Lagos to her home in the southern Nigerian town of Agudama, she found that all of her fellow tenants had vacated their house because of the flooding. Everything she had in her room was soaked, but she managed to move some belongings above the floodwater and left for her mother's house in another town.
But the flood had also reached there and destroyed their property and the food store she managed.
"In the blink of an eye, the whole house was just flooded," Best told Al Jazeera. "I did not even know where the water came from. We were not able to save most of our property."