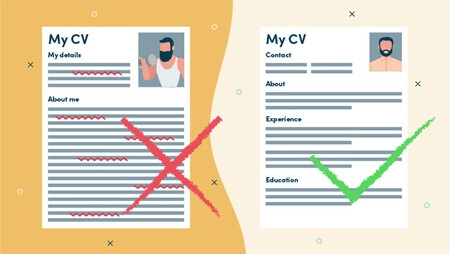 The job/labour market nowadays is stringently competitive and landing a good job now requires lot of tact and skill.
The job we do occupy a very important aspect in our life, emotional, physical, mental and of course all our being, so getting the right job do matter and one of the very key in the labour market is our CV.
So let's discuss what it takes to write a winning CV, a CV that can 'wow' recruiting managers.
So we begin by answering a key question…. What is a CV?? A CV (short for the Latin phrase curriculum vitae, which means "course of life") is a detailed document highlighting your professional and academic history…. There is a slight difference between a CV and a resume but we would use both interchangeably.
Simply put, it is a self marketing document…. A document that sells you to someone else (recruiter)
A look at your CV should let the recruiter know who you are, what you can offer the company? Your CV should answer the questions arising in the mind of the recruiting manager… Who is the best fit for this role? Who can solve the challenge at hand?
Organizations are looking for people who can add value and help them solve challenges… Your CV is a reflection of who you are and what you can offer to the organization….
The question in the mind of many young aspiring graduates is how best do I structure my CV to land a well paying job? How do I beat the competition with unemployment statistics from NBS increasing day by day?? What makes a good CV? How do I know my CV is worth what would make me land a job?
These and many more would be critically answered. Have it at the back of your mind that the recruiter doesn't have time, he has a lot in his hands, he only has few minutes to scan through your CV…. So how then do you convince him that you are worth his time if called for interview and would be a great fit and addition to the organization. The answer lies in your CV.
So today we will analyse the key features of a winning CV….
Address
For address, use your discretion very well. If the job state that people living in some desired areas will be strongly considered. Then look for the address of any friends or relative staying close to that place and include it in your CV. It is generally recommended to always put an address of the location where you are applying to in your CV. If the job is in Lagos, change your address to Lagos even though you might be in Nasarawa… It is also to avoid any sort of location biasness from the HR who has a lot of aspiring people staying close or in the state where he operates….
We have come to the end of personal details….. The first key feature of a winning CV.
The second thing we would look at is career objective/professional summary…..
This shows your career objective. It simply answer the question in the mind of the recruiter what would this person offer our organization???
It is a personal statement from you and is a key feature of a winning CV…. It's a sits just below your name and contact details and provides the employer an overview of who you are and what you're all about.
It should be well garnished, pepperished, short and sweet and should reveal you are the one the organization is looking for
See an example…… To work in a fast paced organization where my skills will be effectively utilized for its progression and be part of a team committed to working untiringly to ensure organization record great success….
This is a bold statement from the job seeker to the recruiting manager. It answers the question in his mind what will he offer us?? With this he knows he has someone who is ready to utilize his available skills to move the organization forward and one that's ready to work his socks off to ensure they record great success….
This section should be tailored for every job you apply for, and should highlight specific qualities that match you to the role….
The next is Education/work experience…. There have been several arguments on which should come first.
The answer to this is not far-fetched. I once engaged the Head, Recruitment and Talent advisory of my bank on this and his opinion his widely considered . For entry level/graduate trainee, education comes first irrespective of the number of years of working experience since you would still be trained, what the recruiter wants to see for this job position is the level of education acquired and records…
However, for those with say five years working experience and above. Work Experience should come first since you are applying for an experienced role….
For roles that requires experience, even though you might not have up to the required number of years, it is best to put work experience first before education.
However, if your academic record is outstanding, say you graduated with a first class honors. Then, you can go with education first to as to quickly catch the attention of the recruiting manager before work experience… This holds even for experienced hire roles…. You are trying to let the recruiter know, this is an excellent candidate within your call…..
Let's delve into education quickly…. I have reviewed a handful of CV's and discovered this section is not well structured at all. That's a bane in CV.
Start by listing your education from your latest/ most recent/highest ranking degree…e.g. MBA, MSc, PGD, BSc, BA, LLB etc.
It is not a must to include secondary and primary education. However, you can include it if you have space in your CV or have stellar grades in your secondary school e.g. 'Had 9 distinctions in WASSCE' , 'overall best science students' , overall best student in the state etc. This shows the recruiting manager you have been outstanding from way back and this will add more consideration to your candidacy.
For Bachelor's grade. If you have a first class include it and quote it, the key is to sell yourself and grab attention as early as possible. e.g. B.AGRIC. First Class 4.81/5.00 Animal Science
If you have a second class upper degree, do not put the CGPA unless it is close to a first class. I recommend anything from 4.20 above as a solid sell. It shows the employer you are as good as a first class product. Anything less than this, just state Second class Upper Honours.
[For those with second class lower degree. Don't put the lower.. Just state Second class Honours.
The name of the institution, year and type of degree should be clearly stated.
For example Law LLB, Engineering B.Eng, Medicine MBBS, Sciences BSc, BAgric, BTech etc.
Let's quickly look at the work experience part….
This should also start with your most recent employment all the way down… NYSC experience, IT, volunteering are all part of this section
For those who are done with service and doing personal business while awaiting that mouthwatering job offer, include your business in your CV…. You don't want to have long employment gaps in your CV which might have a negative influence on your candidacy. Give your business a professional name and put the job title Business Development Manager, Project Manager, Business Analyst etc.
The section should include date, Name of company and Job Title.
Another critical issue in the work experience part is that most people include what they do (responsibilities) but no achievements….
For your CV to win, you must state what was done and the results achieved from it…. Let me give us three instances.
Successfully grew the market share/contract size/revenue base of the company by 20%(or
from 2m to 3m) due to the quality work of my colleagues and I in marketing and sales.
Worked at Poultry and Rabbit Section and was part of the team that doggedly raised broilers and layers to meet targeted revenue and meat production
Coordinated the on-site job from foundation level to the
roof level to ensure the structure satisfy the design conditions.
Impartation of knowledge to the students on Chemistry and Further Mathematics, this led to improved academic performance.
Initiated and drove the paperless revenue drive across the bank, Profit margin was increased by 5% as cost of production dwindle down by 8%…..
It is not enough to state what you did or you are doing in your current place of work, you must put a conscious efforts to state the job achievements.
your job description must be led by verbs (tenses).You are telling the recruiter what you did on the job. Past tense verbs for previous jobs…. Led, Implemented, Ensured etc
While present tense verbs for current jobs….
For Skills/core competencies. It is best to refer to the job description and design your CV in that area. For example if the Job description reads Analytical skills, this should be mentioned in your skills section, and you can provide in your work experience section a time you showed this trait (positive influence to your candidacy).
Other soft skills such as communication, initiative, team work, report writing, leadership, management, Inquisitive, research and analysis can be highlighted in the skills part. The Job description should be use to draft this section from time to time…. As employer now make use of ATS (applicant tracking system) which scan resumes based on key words…
If you have space include leadership section provided you have this and the employer is looking for leadership skills. This is mostly needed for jobs like management trainee and leadership positions….
Certifications/Trainings can also be added to boost your candidacy. It is extremely important for experienced hires, for entry level, it is just an added advantage. People get great jobs without no certifications in their CV. However, if you have it add it to your CV, the key thing is to capture the heart of the recuiting manager and show them you are the one.
Technical publications can also be added if the job description demands it. Don't include it if it is not mentioned. It can be an unnecessary excess…
For References. It should be Available on Request…. Don't give this in advance….. if the employer needs it, you would be asked during your hiring if needed or required. Just ensure you know them and have their details with you if needed.
However, if you are applying to work in a place and you know someone who can vouch for you that's also working there, then include them as reference. HR would likely get in touch with the person to know more about you provided you did well at the interview. This can be an advantage when you have many multiples high scoring candidates vying for limited slots.
Hobbies should come before Reference (the last)…. Hobbies should align with the culture of the organization you are applying to and should be interesting…. If the job requires Travelling, then you can list Travelling as part of your hobbies (it will boost your candidacy)… However don't put what will irritate the hiring manager… E.g. Playing, sleeping, chatting on what'sapp 24/7, pokenosing etc.
Hobbies is also not a must, it is just to show you are someone who has a work-life balance and it is an advantage. I remember shell using this during one of its recruitment when screening CV (lol)
That's for CV and its key features.
Let's take a look at formatting before we round up today….
Don't use multiple fonts and too much effects (bold, italics, underlining) …. This make CV looks disorganized and unpleasant.
Don't put your picture in your CV…. Except if you are applying for a graphic designer job and you want to show ur designing skills.
Ensure your CV is neatly arranged…. Use size 12 and Times New Roman's (recommended)
Keep the line spacing uniform
Avoid italics as much as possible and avoid punctuation /spelling error…. This can be a problem if the hiring manager is meticulous. Imagine spelling acknowledgement as acknowlegement….. Infact have an experienced person proofread your CV for you, it helps a lot.
Keep entire documents at 2 pages, at worst 3 pages….
Formatting and appearance is king. So ensure your CV is well formatted and have a nice appearance.
Save your CV In docx or pdf format and use your name e.g ToyinLawanCV. , don't save it with anything goes, u don't want your CV to be thrown straight to the recycle bin due to name of document. Docx is mostly preferred. However, when the employer require pdf or state the format, kindly follow the instruction.
With modern technology in place and increase in the number of job seekers, most recruiters now make use of ATS before human review.
Here are few tips on how to beat ATS.
Carefully tailor your resume to the job description every single time you apply.
Optimize for ATS search and ranking algorithms by matching your resume keywords to the job description
Use both the long-form and acronym version of keywords (e.g. "Master of Business Administration (MBA)" or "Search Engine Optimization (SEO)") for maximum searchability
Use a chronological or hybrid resume format (avoid the functional resume format)
Don't use tables or columns as they often cause major parsing errors
Use a traditional resume font like times New romans
Don't use headers or footers as the information might get lost or cause a parsing error
Use standard resume section headings like "Work Experience" rather than being cute or clever ("Where I've Been")
Now offering the following services
Professional CV- #2,000
Cover letter- #1,000
Linkedln Profile Optimization- #2,000
Contact 08147691058 on WhatsApp
Save your file as a .docx if possible
In conclusion, not everyone you meet will agree 100% with the points above but the important thing is we should be flexible and also reads more as new method of writing a winning CV becomes rampant in our society.