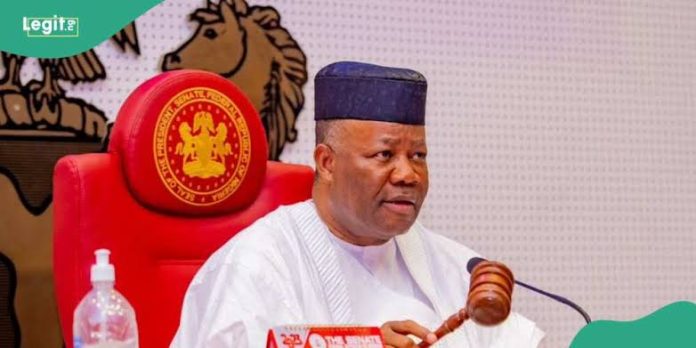 Godswill Akpabio, the current Senate President and the first Southerner to hold the position in 16 years, finds himself entangled in a formidable battle to secure his role. Opposition to his leadership style is emerging from both within and outside his political party.
Akpabio, a former governor of Akwa-Ibom State, is facing scrutiny for his approach in the upper chamber, which is increasingly labeled as a haven for ex-governors at the twilight of their careers.
The dissenting voices are not confined to the opposition; a substantial number of lawmakers within his own party, the APC, are openly challenging his leadership. Sen Ali Ndume, who previously orchestrated Akpabio's campaign, is engaged in a public confrontation with him, and Elisha Abbo led the anti-Akpabio movement until his expulsion from the House.
Yet, Akpabio's challenges extend beyond these internal disputes. Some senators view Abdulaziz Yari as a viable alternative due to the mounting resistance against Akpabio. Notably, Southerners holding the Senate presidency have encountered difficulties, while Northerners in the same role have enjoyed relatively stable tenures.
The numerical disadvantage in the Senate, with the South having 51 senators compared to the North's 58, coupled with many Southern senators belonging to opposition parties, makes Akpabio's situation more complex. Managing these dynamics requires finesse, particularly in light of concerns among Northern Senators regarding the distribution of government appointments.
Despite these formidable obstacles, Akpabio continues to enjoy the support of the President and key figures like Deputy Senate President Barau Jibrin, Opeyemi Bamidele, and Solomon Olamilekan.
For Akpabio, the road ahead is fraught with challenges as he endeavors to retain his position amid growing opposition and intricate political dynamics.