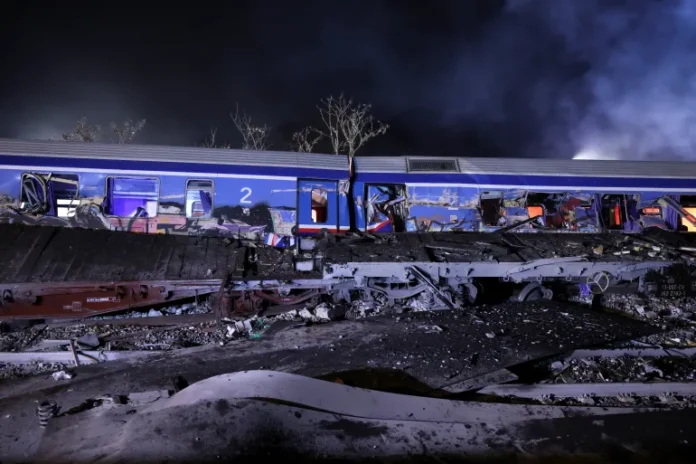 Greek Prime Minister Kyriakos Mitsotakis has blamed human error for a collision between two trains that killed at least 43 people, in the country's worst rail tragedy that triggered the resignation of the transport minister.
The crash took place outside the central city of Larissa late on Tuesday, when a passenger train heading from the capital, Athens, to Thessaloniki collided with a cargo train travelling from the northern city.
Some of the passenger carriages exploded in flames from the impact.
"Everything shows that the drama was, sadly, mainly due to a tragic human error," Mitsotakis, who is seeking re-election this year, said in a televised address on Wednesday.
Kostas Karamanlis, Greece's transport minister, resigned after visiting the site of the crash, saying he felt it was his "duty" to step down.
"The pain is unspeakable," he said. "When something so tragic happens, it is not possible to carry on as if nothing happened.
"I consider it a necessary element of our democracy that the citizens of our country trust the political system. This is called political responsibility."
Authorities arrested the stationmaster at the train's last stop, in the city of Larissa. They did not release the man's name or the reason for the arrest, but the stationmaster is responsible for rail traffic on that stretch of the tracks. He was due to appear before a prosecutor Thursday to be formally charged.
Rail operator Hellenic Train reported about 350 people had been on the passenger train, which left Athens at 7:22pm (19:22 GMT).
Larissa's chief coroner, Roubini Leondari, said 43 bodies had been brought to her for examination and would require DNA identification as they were largely disfigured.
"Most (of the bodies) are young people," she told the broadcaster, ERT. "They are in very bad condition."
Greece's firefighting service said 57 people remained hospitalised late on Wednesday, including six in intensive care. More than 15 others were discharged after receiving treatment.
More than 200 people who were unharmed or suffered minor injuries were taken by bus to Thessaloniki, 130km (80 miles) to the north. Police took their names as they arrived, in an effort to track anyone who may be missing.
"We heard a big bang, [it was] 10 nightmarish seconds," said Stergios Minenis, a 28-year-old passenger who jumped to safety from the wreckage.
"We were turning over in the wagon until we fell on our sides … then there was panic, cables [everywhere;] fire, the fire was immediate, as we were turning over we were being burned, fire was right and left."
Eight rail employees were among the dead, including the two drivers of the freight train and the two drivers of the passenger train, according to Yannis Nitsas, president of the Greek Railroad Workers Union.
The union called the one-day strike to protest what it said was chronic neglect of Greece's railways by successive governments.
"Unfortunately, our long-standing demands for staff hirings, better training and above all use of modern safety technology always end up in the wastepaper basket," it said in a statement.
In Athens, several hundred members of left-wing groups marched late on Wednesday to protest the train deaths. Minor clashes broke out as some protesters threw stones at the offices of Greece's rail operator and riot police and set dumpsters on fire. No arrests or injuries were reported.
'Never seen anything like this'
Earlier, Mitsotakis's office announced a three-day national mourning period.
Meanwhile, Greek President Katerina Sakellaropoulou said she was cutting short a visit to Moldova to return to Greece.
"Unfortunately, I have to interrupt my visit in order to be close to my people, to support those who need it," she told a joint news conference in the Moldovan capital, Chisinau, alongside Moldovan President Maia Sandu.
Thessaly regional governor Konstantinos Agorastos said the two trains hurtled towards each other on the same track.
"They were travelling at great speed and one [driver] didn't know the other was coming," he added.
The first four carriages of the passenger train were derailed in the crash, with the first two carriages, which caught fire, "almost completely destroyed", Agorastos said.
Television footage showed derailed carriages with cargo containers flipped over and crash debris strewn across a nearby road. Rescue workers with high-powered torches were searching through the wreckage for trapped passengers. Some were scouring the surrounding fields for survivors.
"I've never seen anything like this in my entire life. It's tragic. Five hours later, we are finding bodies," an exhausted rescuer said as he emerged from a carriage.
An emergency government meeting was organised after the crash and Greek health minister Thanos Plevris went to the scene.
"There was panic in the carriage, people were screaming," a young man who was evacuated to a nearby bridge told Skai TV.
A passenger named Lazos told the newspaper Proto Thema that the experience had been "very shocking".
"I wasn't hurt but I was stained with blood from other people who were hurt near me," he said.
Greece sold railway operator TRAINOSE to Italy's Ferrovie dello Stato Italiane in 2017 as part of its international bailout programme, with the expectation that hundreds of millions of euros would be invested in rail infrastructure.