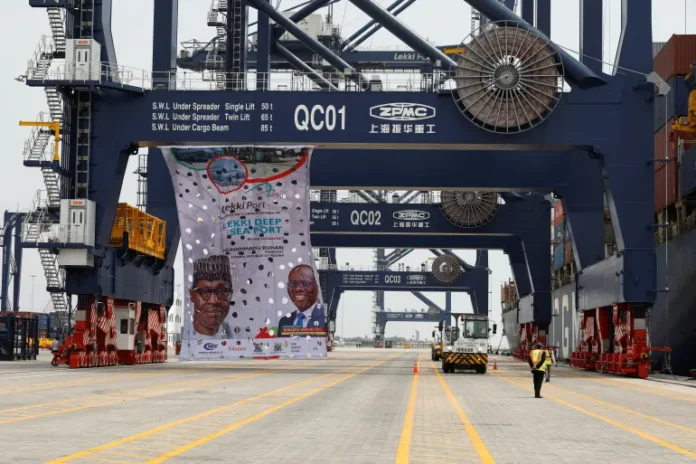 Nigeria has opened a billion-dollar, Chinese-built deep seaport in Lagos, which is expected to ease congestion at the country's ports and help it become an African hub for transhipment, handling cargoes in transit for other destinations.
President Muhammadu Buhari, who inaugurated the port on Monday, has made building infrastructure a key pillar of his government's economic policy and hopes this will help his ruling party win votes during next month's presidential election.
Many of Nigeria's seaports, inherited from the British colonial administration, are no longer functional or operate below capacity. Currently, most commercial activity goes through the two in Lagos and two others in and around Port Harcourt, the nation's oil capital, resulting in steady gridlock and logistics issues for imports and exports.
Local newspaper Punch reported Lagos Governor Babajide Sanwo-Olu as saying that "the size of vessels that will be coming here could be up to four times the size of vessels that currently berth at Tin Can and Apapa Ports [Lagos's existing ports]."
The new Lekki Deep Sea Port is 75 percent owned by the China Harbour Engineering Company and Singapore's Tolaram Group, with the balance shared between the Lagos state government and the Nigerian Ports Authority.
Authorities have said the new port, built at a reported $1.5bn, is one of the largest in West Africa.
"This is a transformative project, game changer project. This project could create at least 200,000 jobs," Chinese Ambassador to Nigeria Cui Jianchun told Reuters after the port was commissioned by Buhari.
China is among the largest bilateral lenders to Nigeria and has funded rail, roads and power stations.