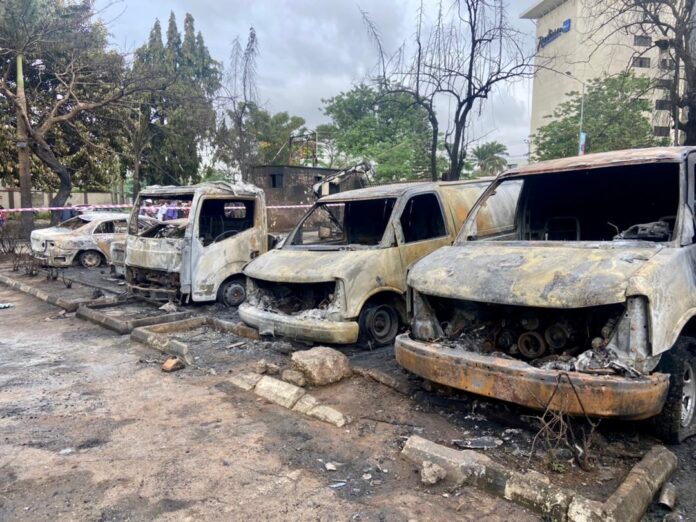 Anxious family members stormed the Lagos State University Teaching Hospital on Friday in search of their loved ones, following a gas explosion in Ikeja that claimed five lives, while nine, including a Filipino, sustained injuries.
The tanker, conveying liquefied petroleum gas on the ever-busy Mobolaji Bank Anthony Way around 10pm on Thursday, spilled its flammable content into nearby OPIC Shopping Plaza, beside Sheraton Lagos Hotel.
Two businesses situated in the plaza, New China Restaurant and Oasis Supermarket, suffered extensive property damage with about 22 burnt vehicles sighted in the parking lot of the plaza.
According to eyewitnesses, most of the casualties were workers at the Chinese restaurant. Our correspondents observed that the restaurant occupies the rear of the four-storey building, downhill from the gate.
The acting Coordinator of the Lagos Territorial Office, National Emergency Management Agency, Mr Ibrahim Farinloye, who spoke to one of our correspondents at the scene of the explosion, stated that NEMA got an alert and resolved the crisis by 3.50am.
Farinloye said, "There was a problem with an LPG tanker, which started somewhere in Maryland. They said there was a leakage, so those who were following the vehicle said there was a leakage. They were trying to contact emergencies but they couldn't (establish contact). When they got to this spot, the valve separated.
"Because of the elevated position of the tanker, all of the content leaked out. All LPG tankers are imported. They are not fabricated in Nigeria, so this incident was not expected. There are five dead victims and 11 rescued alive. Two of them died in the hospital; three were recovered here. They sustained burns."